If you are traveling to the South of Italy odds are you have Naples, The Amalfi Coast, Sorrento and the Isle of Capri on the list. You will go to Naples for its Neopolitan pizza and bustling city vibe, the Amalfi Coast for its world renowned limoncello and cavernous Blue Grotto, Sorrento for its 14th-century cloisters at the Chiesa di San Francesco, and espresso afterwards, in one of the cafes along the Piazza Tasso, and the Isle of Capri for its Caprese salad, fresh seafood, and stunning seaside views. No doubt you will have an amazing time. But after a week or however long your trip may be, if you weary of encountering more tourists than residents, (you might find you have met more Italian-Americans from Astoria, Queens than Southern Italian locals) , overpriced souvenirs (think boot-shaped "Capri" labelled, limoncello bottles), and you are looking for something a little off the beaten track but still on the way, you might consider Avellino. (Fans of the hit television show The Sopranos might know Avellino as the birthplace of fictional crime boss Tony Soprano's grandfather.)
Avellino is also known as Irpinia, a named derived from Hirpinia, the root word "Hirpus" meaning wolf, a reference to the animals that have always resided here. Avellino, (a province in the wine producing region of Campania), is under an hour's drive from Naples. I had the opportunity to visit Avellino and the surrounding provinces of Benevento, Caserta and Salerno, (by way of a three hour drive from Rome), on a four day trip to the area. It was far too brief. But the taste I did get for the flavor of the land was enough to convince me that I would be back.
What is in Avellino? Well, for one thing, the outstanding white wines — Fiano di Avellino and Greco di Tufo — and the red wines — Aglianico and Taurasi — of the Villa Raiano winery. Villa Raiano is perched on a hill, and offers sweeping views of the town center below. Its highest vineyard stands 650 meters above sea level. The air quality is better at these heights and so are the wine grapes. Higher elevations mean more intense sunlight during the day which facilitate the development of concentrated sugar levels in the grapes. When the sun sets, the temperatures fall. The cool nights keep the grapes from ripening too quickly, giving them time to develop both flavor and acidity. So Villa Raiao's lofty position makes it prime real estate for producing wines.
The current Villa Raiao winery was built in 2009. The winery and its vineyards are situated in the Southern Apennines where the climate is cooler and wetter than what is typical around the Mediterranean Sea. Two rivers flow through the area. There is the Sabato to the east, where the Fiano di Avellino wine appellations lie, and the Calore to the west, where Aglianico is cultivated. Grapes are grown on 27 hectares of land that are spread across six vineyards. 10 hectares of vineyards are devoted to the production of Fiano di Avellino D.O.C.G.. Five are located in Montefredane, and within this municipality, two are situated at 450 meters above sea level in the Alimata district. The Fiano di Avellino are planted on clay dominant soil using the guyot vine training system at 4000 vines per hectare at this east facing vineyard. Four hectares of Fiano di Avellino are planted in the municipality of San Michele di Serino in the Bosco Satrano district. The grapes are planted on calciferous clay soil of medium density (also using the guyot system ) at 4500 vines per hectare. Two hectares are located in the municipality of Lapio. One hectare is in the Arianiello district, The grapes are planted on clay and volcanic ash rich soil of medium density using the guyot system at 4000 vines per hectare at this North East facing vineyard. One hectare is in the Campore district. The grapes at this South facing vineyard are cultivated using the same guyot system. Greco di Tufo, the other principal white wine grape planted in Villa Raiao, is grown on five hectares of vineyards planted in 2005 and located at 500 meters above sea level at a density of 4500 vines per hectare in Altavilla within the Ponte dei Santi district.
Another two hectares at the same elevation and vine density are based in the Montefusco in the Pioppo dei Cappuccini district. The guyot vine training system is also employed at this vineyard. They are planted on sandy, volcanic tuff and clay and silt rich soil. The winery's principal red grape, Aglianico, is planted on a southeast facing, single 9 hectare plot in the municipality of Castelfranci, within the Baiano district. The vineyard is located at 550 meters above sea level. The grapes are grown on calcium carbonate, clay, volcanic ash and mineral rich soil using the guyot system at a density of 5000 vines per hectare.
The unimposing wood, stone and glass winery blends seamlessly with the surrounding valley. The winery also serves as a restaurant and event space and hosts an average of 200 celebrations — from birthdays to weddings — annually. The Southern Italian cuisine emphasizes local ingredients and highlights regional specialties. The winery is run by winemaker Frederico Basso but it is a joint family effort with Frederico's father, cousin, brother and uncle taking part in the day to day operations. Frederico was warm, personable and dynamic, and had impeccable taste in wine. He also had a perfect command of English which was great for me because I do not speak Italian.
Here he is posing with the buffalo at Tenuta Vannulo Caseificio Yogurteria Biologica Caseificio.
A little side note about Tenuta Vannulo Caseificio Yogurteria Biologica Caseificio. Even if you have had buffalo mozzarella and ricotta before, you have arguably never really had it until you have had it here. It is a 90 minute drive from Avellino and well worth it. Take a walk around the grounds and visit the buffalo that provide the milk for the cheese like Frederico and I did. Head to the on site restaurant and pair a choice of two pastas with a buffalo mozzarella and ricotta sampler. Finish with a regional dessert to get the full experience. The buffalo mozzarella and ricotta from Caseificio Vannulo somehow manages to be creamy and rich, but still light and airy, and mild but flavorful. There is also a cafe', and a bakery and buffalo yogurt shop.
But getting back to Villa Raiano. Another thing about Frederico that came through was his pride for not only his wines, but the history and the land his family has called home for four generations and counting. The Basso family's connection with the land began over a century ago with the Basso Extra Virgin Olive Oil business. The Basso family began selling Basso Extra Virgin Olive Oil out of a horse drawn cart back in 1904.
It is sold in these glass bottles nowadays. But back then customers would bring tin jugs to be filled by the liter in environmentally sustainable fashion. 100 years later, the Basso Extra Virgin Olive Oil line can be found throughout the world, in markets and specialty retailers throughout Asia, Europe and the Americas.
Now it is Frederico's turn to establish the Basso family name in winemaking with Villa Raiao which was established in 1996. Wine production was originally carried out at the Basso olive oil mill located in Raiano within the town of Serino and the Raiano winery takes its name from the district. I met Frederico there on my first night in Avellino. It was dark and stormy — one for the history books — it had not rained this much in the region on a single day in decades, if ever, before that Friday, October 13, 2019. A three hour drive from Rome had turned into almost double that.
I finally arrived at the Viva hotel in the center of the city. A bread, and a meat and cheese board awaited me in my room courtesy of Serena, a member of the marketing team that had facilitated this trip and the hotel management. I had time for a quick bite, a shower, a change of clothes and fifteen minutes of Italian channel surfing before heading to the winery. It was cold and the wind was fierce but the winery was warm and so was the reception.
Frederico and his family welcomed fellow wine writer Charles Sciclione and I with a rich espresso from his coffee bar, equipped with one of those gargantuan, professional grade, stainless steel espresso machines that you seem to find everywhere in Italy — from cafe's to petrol stations — the Italians are serious about their coffee and usually drink it standing up. We sat down to dinner at a table of reclaimed wood and enjoyed six wines paired with five local and regional Southern Italian courses.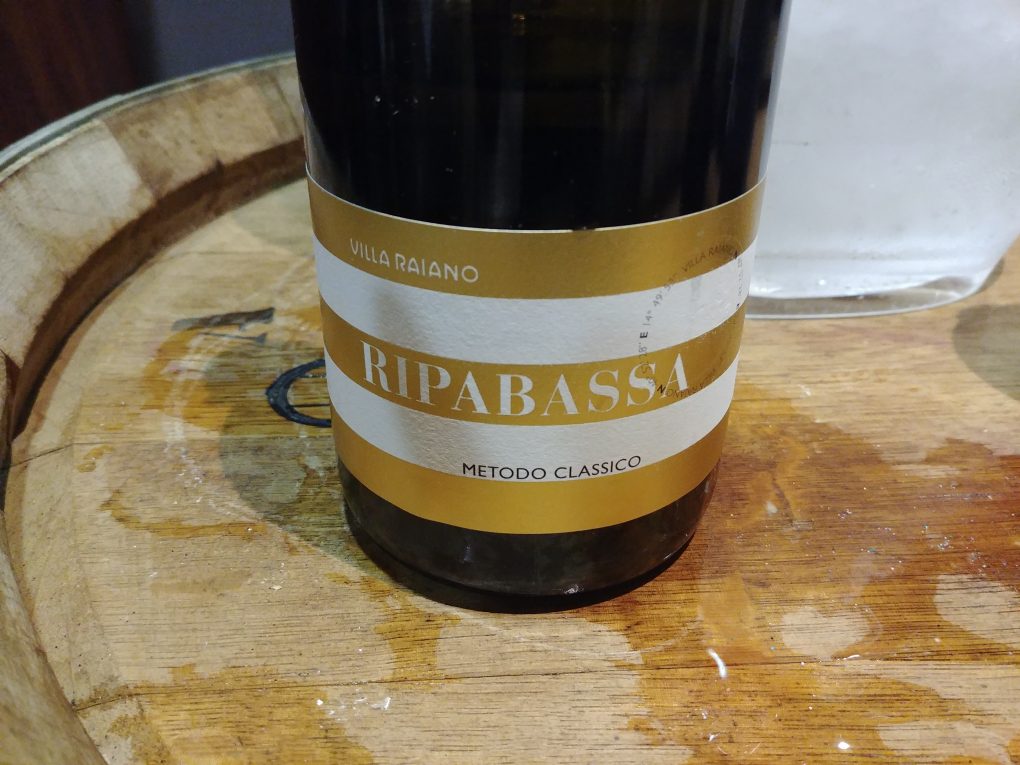 A Spumante Metodo Classico Ripa Bassa undergoing 28 months on the lees and comprised of 50% Greco di Tufo and 50% Fiano di Avellino was fresh and crisp, with bright citrus fruit notes, balanced minerality, and good acidity.
A delicate Greco di Tufo, D.O.C.G., 2018 made with 100% Greco di Tufo exhibited aromas of chamomile and citrus and orchard fruit, and vibrant notes of lemons, limes and apricots, and a subtle herbaceousness.
A Fiano di Avellino, D.O.C.G., Alimata, 2013 comprised of 100% Fiano di Avellino, demonstrated concentrated aromas of lemons and apples, and complex notes of citrus fruit, slate and earth, with good minerality and bright acidity.
A Taurasi, D.O.C.G., 2014 consisting of 100% Aglianico was mellow and supple, and full of fresh berry aromas, and ripe strawberry, rasberry and blueberry notes.
A Taurasi D.O.C.G., 2013 made from 100% Aglianico exhibited dark fruit and earthy aromas, and ripe cherry, raspberry and blackberry notes.
A Taurasi D.O.C.G., 2012 comprised of 100% Aglianico was well rounded, and demonstrated ripe plum, raspberry and strawberry aromas, and dark stone fruit, blackberry and cherry notes, and structured tannins.
These wines were paired with a trio of regional starters including a fried pizza, toasted buttered bread topped with anchovies, and buffalo mozzarella with prosciutto. Four courses followed. Two handmade pastas — one tossed with chickpeas, codfish tartare, and provola cheese — and the other, a fusilli topped with sausage and tomatoes, preceded a slow cooked beef with mashed potatoes and mixed vegetables, and a dessert of millefeuille pastry filled with custard cream and almonds.
Frederico brought out a Villa Raiano Grappa, made of 100% Greco di Tufo, to round out the night. The grappa is produced by distilling the pomace or the pulp that remains after the Greco di Tufo is crushed to extract its juice for making wine. The grappa was powerful, but well balanced and silky, and characterized by citrus, apple, honey and menthol notes.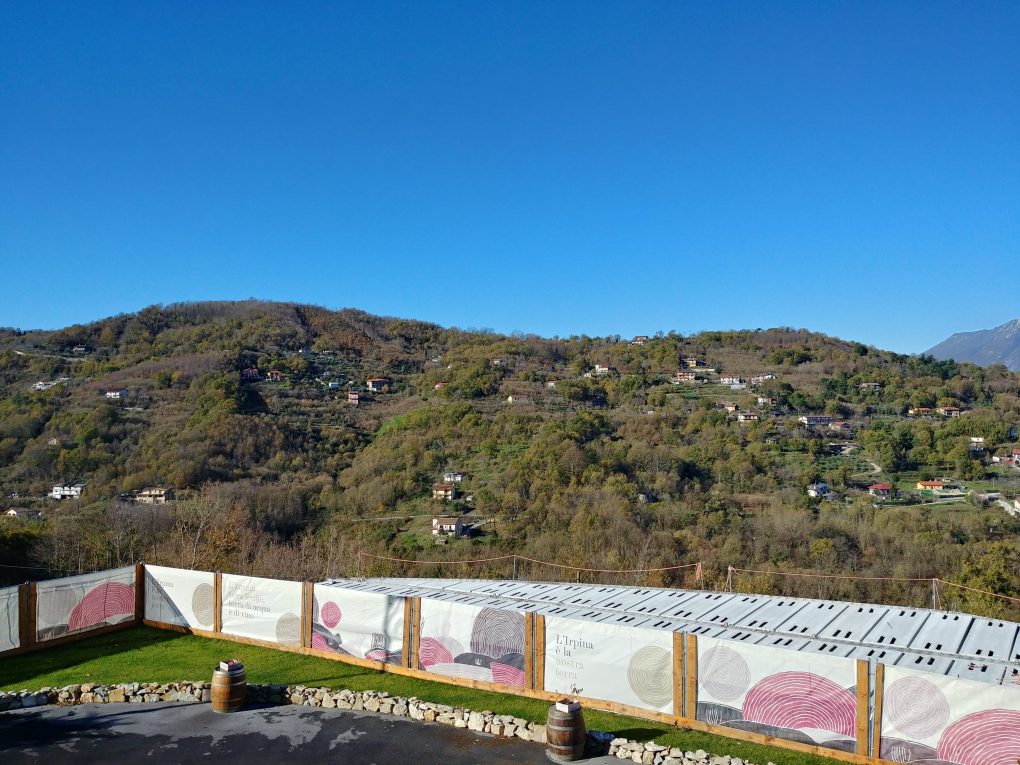 We returned to the winery the following day and I marveled at the difference a day made in terms of the view of the landscape from our elevated hilltop standpoint. It was impressive even on a stormy night, but in the light of day, with a clear view of the pretty town below, it was breathtaking. Frederico showcased his single vineyard collection of wines. He poured four Fiano di Avellino to start. Each had the crisp and lively acidity, fresh and inviting aromas and notes of white flowers, and citrus and orchard fruit, and the soft and delicate finish that is a signature of Fiano di Avellino from Villa Raiano. Frederico believes that these are the elements found naturally in the Fiano di Avellino grape and he has created single vinyard wines that preserve these qualities.
Frederico also poured a 100% Aglianico that had a fresh acidity, brightness, and juicy berry fruit driven profile to give us a glimpse into the inherent characteristics of this black grape in its youth. It also demonstrated the aging potential of Aglianico. Expect firm but balanced tannins and increasingly complex raspberry, blueberry, blackberry and plum notes from this wine with time.
Then it was off to lunch at Riserva 24, a local gem of a restaurant in Serino. We had a veritable feast of regional favorites paired with Greco di Tufo.
I spent the rest of the afternoon taking a self guided tour of the old city. Avellino is very walkable; traffic lights are few and the cobblestone paths sometimes uneven, but drivers stop at the crosswalks (more or less) and the streets are not overrun with pedestrians even during rush hour. I climbed the steps to the Baroque style Torre dell'Orologio in the Piazza Amendola. I walked the winding roads up to the Roman Catholic Avellino Cathedral.
I bought Giffoni hazelnuts (hazelnuts have been cultivated in Campania since the time of the ancient Romans), and Montella chestnuts at the Avellino outdoor market.
Then it was off to dinner at Ristorante Valleverde Zi' Pasqualina, a neighborhood favorite decorated with rustic wood tables, woven placemats, and other provincial accents. We dined on quality homestyle regional cuisine, paired with a fine bottle of vintage 2005 Greco di Tufo, proving that white wines from Campania can and do age beautifully.
We headed out the following morning to the ancient Greek and Roman ruins at Paestum, a breezy coastal town by the Tyrrhenian Sea. We drove past airy seaside restaurants and souvenir stands that I imagined would be thronged with visitors during the warmer months. Groups of bicyclists regularly whizzed past us on the extended bicycle lane that ran through the town. There are a number of scenic bicycle routes through Southern Italy by way of the Tyrrhenian Coast and one from Salerno to Cilento will take you past the ruins at Paestum.
Upon arrival we met our tour guide Adele, a knowledgeable and well spoken woman who knew the history of the area and the ancient Greeks and Romans that once occupied the land, like the back of her hand. We made our way along the well worn grassy path inside the ancient city walls, past the amphitheater, and the remnants of paved walkways, marketplaces, and public squares.
The three predominantly Doric columned temples date back to between the 4th. and 6th. century BC; two are dedicated to the goddess Hera (one of these (Temple of Hera I) predates the Parthenon), and the third to the goddess Athena. The area was originally called Poseidonia, after Poseidon, the god of the sea. After its conquest by the Romans, the area was renamed Paestum. I learned this on my tour with Adele who spoke about these historical sites with the refreshing aplomb of a first time visitor despite having well over a decade of experience as a guide of the area.
The on site National Archaeology Museum of Paestum fleshed out the history of old Paestum, with artifacts recovered from excavations of the area. Much of this ancient city remains hidden underground; the existence of privately owned homes on the land prevent it from being excavated but the Italian government is in negotiations with some of these homeowners to gain access for the purpose of exploring the territory.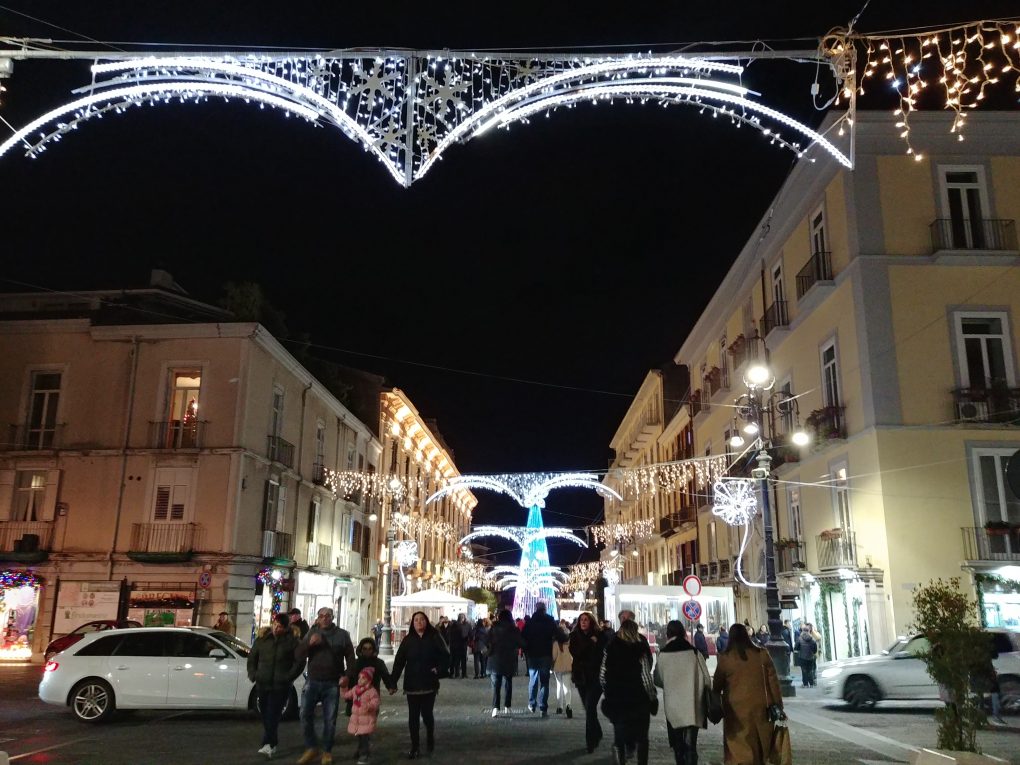 We had dinner that night at Pizzeria Madison Avellino, a neighborhood go to spot for spot on wood fired, oven baked Neapolitan pizza.
That is Serena, the tireless marketing associate who worked with Frederico to put this exciting itinerary together.
It was a traffic free drive to Rome the next day before boarding a late afternoon flight back to New York City.
Villa Raiano
via Bosco Satrano, 1
loc. Cerreto 83020
San Michele di Serino
Avellino, Italia
https://www.villaraiano.com/en
Tenuta Vannulo Caseificio Yogurteria Biologica Caseificio
Via Galileo Galilei, 101, 84047 Capaccio SA, Italy
Riserva 24
Via Roma, 32, 83028 Serino AV, Italy
Ristorante Valleverde Zi' Pasqualina
Via Pianodardine, 112, 83042 Atripalda AV, Italy
National Archaeology Museum of Paestum
Via Magna Graecia, 917/919, 84047 Paestum SA, Italy
Pizzeria Madison Avellino
Via Circumvallazione, 82, 83100 Avellino AV, Italy